13 Men Arrested In Florida Sting Operation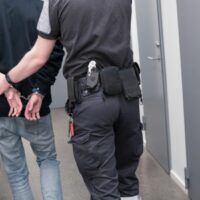 Sexual abuse of children is a serious crime, but that doesn't deter a lot of people. Sex crimes against minors are common in Florida, which is why police departments often set up sting operations to catch those trying to harm children.
A recent sting operation in Florida netted 13 arrests. The undercover operation was initiated by the Polk County Sheriff's Office, with help from Chris Hansen of "To Catch a Predator." The sting operation was put in place to target those who are trying to "sexually abuse, groom, and corrupt" children.
The operation was called "Operation Cyber Guardian II" and lasted for one week. The officers would catch criminals by posing as boys and girls as young as 13 years old. Thirteen men were caught in the sting operation. Eight suspects were arrested after they showed up at a location in Polk County with the intent to meet a minor for sex. Police got arrest warrants for the five other men, who were in different counties. Three of the suspects were under the impression that they were speaking with parents who wanted to teach their children about how to have sex by arranging for their kids to have sex with the suspects.
In total, the 13 men are facing 41 felony charges as well as three misdemeanor charges. The criminal charges  include traveling to meet a minor for sex, use of a computer to seduce a child,  transmission of material harmful to a child, attempted lewd battery, and unlawful use of a two-way communication device.
Of those arrested, two of the men told detectives they were married. Two brought illegal drugs to the undercover location, while two others brought condoms.
One of those arrested was a 42-year-old man from Winter Garden. The married father of two children was taken into police custody at Disney World, where he has worked for 16 years as an IT support specialist.
The man started exchanging messages with an undercover police officer on August 29. He was under the impression that he was communicating with a 13-year-old girl. The man described to her the sexual acts he wanted to perform on her and told her that they would have to be careful due to her age. Police allege that the man had previously engaged with undercover officers he believed to be underage girls but would always stop communication before actually traveling to meet with them. The man was booked in Orange County Jail and faces multiple criminal charges, including using a computer to solicit a child for sex and transmitting harmful material to a minor.
Contact a Legal Professional for Help
Sting operations are common in Florida as law enforcement officials crack down on those engaging in sex crimes. Those who are arrested for these crimes face serious penalties.
If you have been accused of a sex crime, you're in for the fight of your life. A Florida minor sex offense lawyer from the Law Offices of Gilbert A. Schaffnit can help you understand your legal rights. Schedule a consultation by calling (352) 505-1799 or filling out the online form.
Source:
nypost.com/2022/09/16/disney-employee-among-13-predators-accused-of-wanting-to-sexually-abuse-kids/