8 Arrested in Anti-Child Porn Sting in Polk County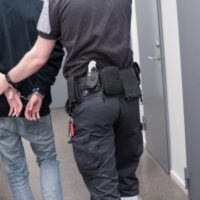 A recent sting, called Operation May's Monsters, has led to eight arrests. The offenders, all men, were arrested by the Polk County Sheriff's Office on June 1. Between them, they face 1,280 felony charges.
The men were arrested by the sheriff office's Computer Crimes Unit, which focused on identifying those who possessed and distributed child porn images. Those arrested included a Disney employee, a boudoir photographer, and workers at retail stores such as Publix and Best Buy.
Law enforcement officials claim that the suspects were possessing and distributing thousands of photos and videos of young children — including babies and toddlers — forced into sex acts or displayed in sexually explicit poses. The children were forced to expose their genitalia and raped. The images were some of the most horrific that detectives had ever seen.
One man was arrested after someone found his photography business, "Enchanting Boudoir," on Craigslist. The 58-year-old man enjoyed taking photos of people in their underwear, including children as young as 13 years old.
Another man was arrested for child porn possession. The 49-year-old man has two young children of his own, but no pictures of them were found in the collection that police obtained. His wife had no idea and was "horrified."
Another man arrested for child porn was a Disney employee. The 40-year-old  man worked at Cosmic Ray's restaurant at Disney World. He was charged with 540 counts of child porn, with victims ranging from newborns to 8-year-olds. His wife was also shocked about his arrest.
Two other men, ages 24 and 33, worked at Best Buy. The 33-year-old had 200 images of children between 1 and 13 years old.
A 39-year-old man from Haynes City was also arrested. So was a 66-year-old retired customer service worker, who was in possession of 350 child porn images on a CD. The children were under 1 year old. The man's wife, a retired child protective services worker, was mortified.
Lastly, a Publix worker was arrested. The 52-year-old man carried micro SD cards of child porn in his wallet.
The investigation is still ongoing as police completely examine all the men's electronic devices. Police are expected to file additional charges. They are looking to identify the victims in the photos and videos.
Contact a Legal Professional for Help
It's always sad when children are harmed. Crimes against children are taken seriously in Florida. If you are caught, you could face stiff penalties.
You need experienced legal representation right away. That's where a Florida child pornography lawyer from the Law Offices of Gilbert A. Schaffnit comes in. We'll work hard to get you a positive outcome. To schedule a consultation, fill out the online form or call (352) 505-1799.
Source:
wfla.com/news/polk-county/disney-employee-7-others-rack-up-over-1200-charges-in-polk-county-child-porn-sting-pcso/