Award-Winning Florida Lawyer Arrested For Downloading Child Porn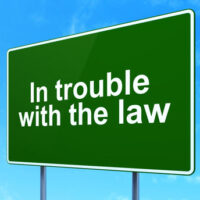 A 53-year-old lawyer from South Florida was arrested on March 15 after police found thousands of child sex abuse images on his laptop. The ironic part is that the man was well-known for his work on child sexual battery cases. He founded the "Protect Our Kids First" committee and was named one of the top lawyers in America.
The man had also spoken out publicly about the sex abuse he faced as a 7-year-old boy at the hands of a neighbor. The lawyer had a great reputation but that came crashing down when FBI agents discovered nearly 2,000 images and five child pornography videos on his laptop. The man was arrested and is currently in jail awaiting his arraignment, which is scheduled for mid-April. He faces multiple child pornography possession charges and could face up to 20 years in prison if convicted.
Authorities obtained three search warrants to search the lawyer's vehicle and apartment in West Palm Beach. When law enforcement asked the man to come to the door, he refused. This led to a forceful breach on the door. FBI agents entered the home and found the man alone in the home. He was awake on a bed with a Samsung laptop located next to him. Law enforcement officials noticed multiple windows open on the laptop.
That was when agents found the sexually explicit material. There was a folder titled "sweetie" and it contained a sub-folder titled "Sweet-Pedo Stars," which featured child pornography images of one prepubescent female. A digital forensics team later reviewed the laptop. As of March 24, FBI personnel had identified 1,997 images and five videos of child porn.
The man was using peer-to-peer software called BitTorrent to anonymously download the images and videos. There were images of multiple female children estimated to be between 5 and 11 years old. It is unknown how federal authorities were able to track down the lawyer.
In 1994, the man received his law degree from Stetson University College of Law in Gulfport. He first made a name for himself a decade later, when he came forward as a child sex abuse survivor. He later testified before the Florida Senate Criminal Justice Committee to repeal all statutes of limitations for prosecuting child sexual battery.
Contact a Legal Professional for Help
Those accused of child porn charges need a strong defense. See how a Florida child pornography lawyer from the Law Offices of Gilbert A. Schaffnit can help. Schedule a consultation with our office today by filling out the online form or calling (352) 505-1799.
Sources:
dailymail.co.uk/news/article-11931861/Florida-attorney-53-caught-thousands-child-pornography-images-computer.html
wpbf.com/article/florida-lawyer-represented-sex-abuse-victims-charged-with-possessing-child-pornography/43471519#