Florida Man Accused of Cyberstalking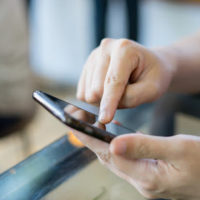 In the past, in order to stalk someone, you had to physically be in their presence. But with the internet, social media and other computer technology, you can now stalk someone from afar. You can do it from the comfort of an electronic device. You don't need to be in the same city, state or even the same country as the other person.
This is called cyberstalking. While it may not seem like a major crime, it can be. In some cases, you can even face felony charges. A Florida man was recently arrested for cyberstalking after he harassed a college student.
The 57-year-old West Palm Beach man was booked into Leon County Detention Center on February 21 on a $1,500 bond. He was still detained there the following day.
He was arrested for harassing a student from Florida State University. The harassment started in September 2015 when the student started receiving messages from an unknown man claiming to be his father. The man also allegedly contacted the student's mother.
The student did not know why this man was contacting him, as he knew this man was not his biological father. Nobody else in his family knew the man.
The student told his mother and contacted police. The man never came to the college campus to contact the student. The student said he followed the man on Twitter.
The student had been contacted by the man since he was a senior in high school. The man claimed that his son had been taken away from him when he was baby and he had been looking for him all over Florida.
The student asked that communication cease, but the man continued to message the student on Twitter. Investigators found tweets that the man sent to the student. The man goes back to court March 13.
What is Cyberstalking?
Under Florida Statutes 784.048, cyberstalking occurs when a person uses email, social media or some other form of electronic communication to convey words or images to a specific person for no legitimate purpose other than to harass and cause emotional distress. A person who commits this crime can face a first degree misdemeanor charge, punishable by a $1,000 fine and one year in jail.
If the cyberstalking involves a credible threat, occurs while there is a no-contact order or protective injunction in place, or is directed to a child under age 16, the charges is elevated to aggravated stalking. Aggravated stalking can result in a third degree felony charge, which can lead to five years in prison
Get Legal Help Today
Cyberstalking may seem like a harmless crime, but any time a person harasses another via technology, it becomes serious. Such harassment—even though it is not done in person—can cause lead to criminal charges.
If you are accused of cyberstalking or other computer crimes, seek legal help right away. The Gainesville criminal defense attorneys at the Law Offices of Gilbert A. Schaffnit can assess your case and reduce your charges. Schedule your consultation by contacting us at (352) 505-1799.
Resource:
wtxl.com/news/man-arrested-for-cyberstalking-florida-state-student/article_708ffa5c-17c5-11e8-a91d-3bd846b4e41f.html