Florida Man Arrested For Possessing Child Porn Images Described As "Art"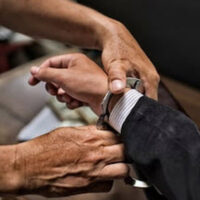 People have different feelings about porn. Some enjoy it and watch it every day, while others are against it. While there is nothing illegal about adult porn, child porn is a whole different story. It's illegal and it's not "art," as one Florida teacher described it.
A teacher from Palm Beach County was arrested for child porn on August 31. However, the man was in denial of the images, claiming that they were not real and instead "art."
The man was caught after Google reported a cyber tip to the National Center for Missing and Exploited Children. The search engine claimed that one of its users had uploaded 50 files of anime and videos depicting the sexual abuse of children.
The Palm Beach County Sheriff's Office SWAT Team executed a search warrant at the teacher's home on August 31. The man was arrested on 30 counts of possession of 10 or more images of sexual performance by a child. He told law enforcement officials that he hadn't used his Google account in many years. Also, the child porn he was viewing was "not real" and was "art."
The man was a second grade teacher who had worked at Timber Trace Elementary in Palm Beach Gardens since 2002. The case is under investigation, although the school principal said that the teacher will not be returning to the school campus. It is not believed that any students at the school were affected.
The man is currently at Palm Beach County Jail on a $150,000 bond. The principal sent an email to the parents, who were horrified at the news.
The Line Between Pornography and Art
Many photos, videos, and images are construed as art. Many others are defined as porn. What is the difference? Where does one draw the line?
By definition, pornography refers to sexually explicit pictures and other material created with the primary purpose of causing  sexual arousal. Under the law, pornography is defined a little differently. The Supreme Court defines it as an absence of artistic and social value.
So does this mean pornography should be looked down upon? Not necessarily. There are many films and music videos that contain images that could be considered pornography. Instead, they are considered works of art. But why?
There must be boundaries in place. Things that are clearly illegal — such as child porn, bestiality, and rape — should not be considered art. Adult porn showing human sensuality? Maybe. It's all how you look at it, to a certain degree.
Contact a Legal Professional for Help
You don't expect teachers to look at child pornography, but many educators and other community figures enjoy looking at these images. They may make excuses to minimize the consequences.
If you have been accused of child porn possession, production, or distribution, you need help from a Florida child pornography lawyer from the Law Offices of Gilbert A. Schaffnit. We can provide you with a strong defense. Fill out the online form or call (352) 505-1799 to schedule a consultation.
Source:
wpbf.com/article/florida-palm-beach-county-elementary-teacher-child-pornography-timber-trace/41042406#