Florida Man Arrested for Traveling to Meet a Minor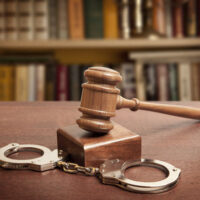 The internet, particularly social media, is a great way for people to stay in touch with each other. It is also a way for people to meet others for sex. Sometimes the sex is between consenting adults. In other cases, the adult propositions a minor, leading to an arrest.
This recently happened in Florida. A 39-year-old man from Interlachen was recently arrested after traveling to meet a minor for sex. The man, who was communicating with a 15-year-old girl online, showed up to a teenager's home in Palatka with muffins, a condom, a $20 bill, and Harry Potter books.
The man was arrested and charged with multiple crimes, including lewd and lascivious battery, traveling to meet a minor to engage in unlawful sexual conduct, obscene communication with a minor, and using a two-way communication device in commission of a felony.
Members of the Putnam County Sheriff's Office and members of the NE Florida INTERCEPT task force investigated the case after the girl's mother felt something was not right. In June, the mother noticed that her daughter had new Harry Potter Legos. She did not believe the teen's explanation and took her cellphone. That was when the mother discovered inappropriate conversations between her daughter and the man.
The mother brought her daughter's phone to the Putnam County Sheriff's Office. The INTERCEPT task force, which fights human trafficking and child exploitation, took on the case. Over the next several weeks, the man continued to communicate with who he thought was the teen girl.
On July 7, the man arrived at the girls' home with blueberry muffins, a $20 dollar bill, and the complete set of Harry Potter books. Inside his vehicle, there was also a used condom and lube inside a lunchbox.
The man had started communicating with the teen on June 11 after sending her a friend request online. He is married and has two children, ages 3 years and 6 months. The man has been booked into the Putnam County Jail and, if convicted, faces many years in prison for his alleged sex crimes.
Deputies from the sheriff's department commend the mother for her diligence in contacting law enforcement. She trusted her gut instincts and knew something was wrong with her daughter.
Contact a Legal Professional for Help
Meeting a minor for sex or causing a minor to travel for sex are illegal activities that are punished harshly. A person can face many years in prison.
Law enforcement officials are finding ways to arrest people quickly. Parents are becoming more in tune with what their children are doing online. If you have been accused of a crime, get the best defense possible with help from a Florida minor sex offense lawyer from the Law Offices of Gilbert A. Schaffnit. Schedule a consultation with our office by filling out the online form or calling (352) 505-1799.
Source:
firstcoastnews.com/article/news/crime/she-stopped-her-child-from-being-groomed-sheriff-praises-quick-actions-of-mom-arrests-man-for-traveling-to-meet-minor-in-putnam-county/77-b24abd7c-3c45-4066-a87c-4a6c8da722a9