Florida Man Arrested in Connection With Large Child Porn Hub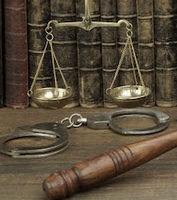 It is surprisingly easy for people to get their hands on child porn. With technology, you can simply upload or email images and videos to send to others. In Florida, there is a file sharing hub that was being used to download and distribute child porn. Police think that they have arrested the man behind this online hub.
A man from Bonifay was arrested on September 10 on 288 counts of child porn possession and distribution. The 55-year-old man was arrested after a six-week investigation as part of a joint effort by Walton County Sheriff's Office, the North Florida Internet Crimes against Children Task Force (ICACT) and the U.S. Department of Homeland Security. An investigator from Walton County Sheriff's Office found that images and videos of child porn were being downloaded and distributed through a hub's file-sharing network.  The hub was believed to be in Walton County, but upon further investigation, the activity was traced to North Highway 79, the home of the man authorities arrested.
Police served the man a search warrant on September 10. While authorities searched the man's home, they found a computer that was actively running the file-sharing program. It was transferring files while police were present. On the computer, police found 288 videos. The videos were sexually explicit in nature, featuring children between 7 and 15.
Police officers seized other devices found in the man's home. It is likely that more child porn images will be found, which means the man could face additional criminal charges. The man did admit to downloading and distributing child porn. He is currently in jail on a $2.8 million bond.
Child Porn on the Internet
While law enforcement officials are trying their best to get child porn off the internet, the problem just keeps getting worse. Internet safety is now one of the biggest health concerns for children. In the past decade, child porn offenses have increased by 200 percent. As of 2016, child porn offenses had risen for the eighth year in a row. In 2013, 2,776 people in the United States were prosecuted for exploiting children. This is nearly double the 1,405 cases in 2004.
Child porn sites are rampant on the internet. More than 90 percent of sexual abuse URLs come from the United States, Canada, Russia, Netherlands and France. The United States was ranked second. Between 2002 and 2012, the National Center for Missing and Exploited Children reviewed more than 80 million images depicting child porn. There was a 774 percent increase between 2005 and 2011.
Contact a Legal Professional for Help
Child porn is not legal, unlike adult porn. It is a serious crime that can have long-term consequences for all involved. Therefore, it is important to seek legal help right away if you are accused of such charges.
The Law Offices of Gilbert A. Schaffnit has helped many clients reduce their penalties for child porn charges. His aggressive representation can help you achieve a favorable outcome. Fill out the online form or calling his office at (352) 505-1799 to schedule a consultation.
Resources:
dothaneagle.com/news/crime_court/holmes-county-arrest-disrupts-large-online-child-porn-distribution-hub/article_3cda721a-b5f3-11e8-8eae-ab9158bcd7a6.html
enough.org/stats_exploitation