Florida Man Arrested On New Child Porn Charges After Previous Arrest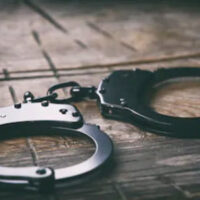 Do people ever learn from their crimes? Would an arrest and punishment deter a person from committing the same crime again?
You would think so, but that is not always the case. A Florida man who was arrested in February has been arrested again a month later for even more child pornography charges. The 28-year-old man from Springfield was arrested on February 2 for failing to register as a sex offender. On March 3, he was arrested once again. He was booked into Bay County Jail for multiple charges, including possession of the sexual performance of a child, unlawful sexual activity with a minor and use of a child in a sexual performance.
The man was originally arrested in February as part of an undercover investigation called "Operation Watchdog." He had failed to register as a sex offender with the Florida Department of Law Enforcement or the Bay County Sheriff's Office.
When the man was arrested in February, he had an electronic device in his possession. Police seized it and obtained a search warrant. Investigators then conducted a forensic extraction and analysis of the device and found child porn images on it. They included images and video of a minor engaging in sexual acts with the man.
Investigators located the child, who confirmed that they did engage in sexual acts with the man. The sexual activity took place multiple times in the man's home and vehicle. The man had communicated with the child on social media and then met up with the child in person. The man was fully aware that the victim was a minor.
Repeat Offenders
When studying repeat offenders, experts often look at the recidivism rate – the likelihood that someone who has committed a crime will engage in the same crime again. Studies show that older people with more education are less likely to keep committing the same crimes. This means that younger people with less education have a higher rate of recidivism.
One statistic is that 45% of federal inmates are arrested again within five years of being released. While this may seem like a lot, keep in mind that most inmates in federal prisons are in there for drug crimes. Therefore, those who re-offend are not typically dangerous, although many murderers, rapists and those involved in child porn often offend again.
Another thing to consider, though, that just because a person is arrested does not mean they are convicted. Many who are arrested for allegedly re-offending are not convicted of their crimes. After eight years, the rearrest rate is 49%, while the re-conviction rate is 32% and the re-incarceration rate is even lower – 25%.
Contact a Legal Professional for Help
Child porn crimes are punished harshly, especially when a person does not learn the first time and offends multiple times. A person can spend decades in prison for their actions.
Protect your legal rights with legal help from Florida child pornography lawyer Gilbert A. Schaffnit. We will vigorously defend your case. Schedule a free consultation today. Call (352) 505-1799 or fill out the online form.
Resources:
themarshallproject.org/2016/03/09/seven-things-to-know-about-repeat-offenders
newsherald.com/story/news/2021/03/10/bay-county-florida-sex-offender-faces-new-child-sex-and-porn-charges/6930225002/