Florida Teen Faces Charges For Cyberstalking Politician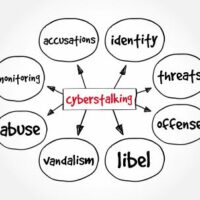 Many people try to contact celebrities and public figures via social media and online apps. But when this contact turns to harassment and extortion that causes fear and emotional harm, a person can face criminal charges such as cyberstalking.
That is what a Florida teen is facing after he threatened state Sen. Lauren Book with sexually explicit photos. The 19-year-old man from Plantation is facing multiple criminal charges, including extortion (a second-degree felony) and two first-degree misdemeanors for harassment and cyberstalking.
Book notified law enforcement officials in November that she received numerous text messages from an unknown number. The texts included photos of her breasts, which the man threatened to leak to the news outlets unless Book gave him $5,000 in gift cards.
Book confirmed with law enforcement agents that the photos were of her breasts. She claimed she took the photos herself and shared them with a close friend, so it is unknown how the man got access to the pictures. The man also sent Book other sexually explicit photos, such as female genitalia and a sexual act.
Book kept silent about the investigation related to the cyberstalking after police wanted the situation to remain private. She invoked Marsy's Law, which is one of Florida's constitutional rights for victims. Despite this, details of the investigation were released and her identity was revealed.
The man was arrested on November 17 by the Broward County's Sheriff's Office. This was five days after Book alerted law enforcement of the messages. Agents had impersonated Book online and were able to arrest the man at a Starbucks in Sunrise.
The man confessed to sending the text messages to Book. It is unknown how he obtained the photos. He was released the next day on a $60,000 bond. Under the conditions of the bond, he is required to be electronically monitored. He also cannot have access to the internet or any contact with Book.
The man is a registered Democrat who is a member of Book's district. He has no prior criminal history.
This is not the first time that Book has been a victim of sexually harassment. In 2018, she got an injunction against a convicted sex offender who had been targeting her for almost a decade. The man created obscene YouTube videos as well as a website that aimed to expose her and her father. Book was also sexually abused as a child.
Contact a Legal Professional for Help
Cyberstalking is a serious crime that can lead to felony charges, as seen in this case. You may get a restraining order against you as well as face additional criminal charges.
Cyberstalking can mean many years in prison and other penalties. Protect your legal rights with help from Florida computer & internet crimes lawyer Gilbert A. Schaffnit. We're available 24/7 to help you. Schedule a free consultation today by filling out the online form or calling (352) 505-1799.
Resource:
floridapolitics.com/archives/477317-lauren-book-targeted-by-sexual-harassment-extortion-law-enforcement-investigation-ongoing/