Florida Woman Dealing With Cyberstalker for 3 Years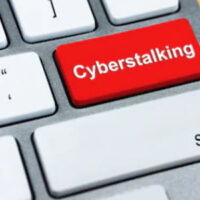 In the past, stalking was solely physical in nature. A person would follow their victim around town, perhaps to their work or home. But now, with technology rapidly advancing, a person can cyberstalk, or track their victims online. They can hack into their social media accounts, email accounts and even their phones. It's so easy that they don't even have to be in the same town as their victims – they can be thousands of miles away.
This is the case for a Florida woman, who has been cyberstalked by a California man for the past three years. Despite the mental torture she has endured from the man – who has called her nasty names and even hoped she would die – law enforcement has done virtually nothing to help the woman.
It all started with social media. The man had posted a tweet on Twitter about women's rights. In support of the tweet, the woman responded with four emojis. That was when the harassment began.
The man became enamored with the woman. He developed a romantic interest in her, but she rejected him. That was when the man hacked into the woman's social media accounts. He took control of her Twitter account and then changed the passwords on her phone and other devices.
The woman, armed with screenshots and voice messages as proof of the cyberstalking, filed a police report. When the man found out, he plotted revenge even more. He took control of her phone. The woman's friends would call her, but her phone never rang. Instead, the man would answer. Over a three-year period, he disabled seven of the woman's phones.
The man would leave her messages, calling her a prostitute and other demeaning names. He even wished her death. At one point, the woman went to California to file an injunction against the man. However, the man has refused to appear in court, despite close to a dozen subpoenas. So far, he is not facing any criminal charges.
This has left the case open. In Florida, the judge dismissed the request for injunction, claiming that there is not enough evidence, despite the woman's arguments to the contrary.
Why isn't law enforcement taking this case seriously? Likely, it's because it's so small. If the man was harassing more women, then police would be more inclined to take it seriously. Resources are limited when there's a single case spanning multiple states.
However, the woman claims that there are more victims in other states. She has been contacting them and gathering their information in hopes that police will take action and finally end the torment.
Contact a Legal Professional for Help
Cyberstalking may not sound like a major crime when compared to murder or other deadly crimes, but it can still result in harsh punishment. This crime causes harassment to victims and can lead to severe psychological distress.
If you have been accused of cyberstalking, you need professional legal help. Don't ignore this type of case. Florida computer & internet crime lawyer Gilbert A. Schaffnit can protect your legal rights. To schedule a free consultation, fill out the online form or call (352) 505-1799.
Resource:
wfla.com/8-on-your-side/tampa-bay-woman-details-3-year-nightmare-to-unplug-a-cyerberstalker/