Miami Man Accused Of Human Trafficking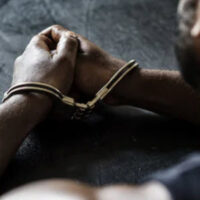 Many teens are lured by the thought of making a lot of money in a short period of time. So when they are approached by someone who promises large amounts of cash for easy work, of course they want to believe it. They take the person up on their offer, only to find out that it's too good to be true. They get lured into sex and the other aspects of the human trafficking lifestyle.
This is what happened to a young girl in South Florida. She met up with a man who promised her money. Instead, she got branded and caught up in a world of unwanted sex.
A 38-year-old man from Miami was arrested on June 1 after the girls' mother informed police of the human trafficking. The two initially met at the CVS pharmacy at 10th Street and Washington Avenue in South Beach. The man told the girl that she could make a lot of money by helping him sell yachts.
The man and the girl met up again. This time, the man lured her in with a Ferrari. He gave her alcohol and drugs before taking her to a hotel room. She was left in the hotel room with the driver of the Ferrari. The man wanted to have sex her, but the girl talked him out of it.
The other man kept threatening the victim and tried to contact the girl. She finally agreed to meet with him in hopes that he would leave her alone. The girl was forced to get a tattoo.
The girl told her mother about the crimes and she reported them to the police. The man was arrested for multiple human trafficking charges. He is currently in Miami-Dade Jail with no bond.
Miami Beach Police believe there could be other victims. They are encouraged to reach out and contact the police.
Human Trafficking in Florida
Human trafficking is a type of modern-day slavery in which traffickers exploit others, typically for sex. Traffickers use force, fraud and/or coercion to lure people—typically young girls.
Human trafficking affects more than 20 million people all over the world and it is a serious issue in Florida. In fact, according to statistics, the state is ranked as the third highest human trafficking destination in the United States. Half of all trafficking victims are under the age of 18.
Contact a Legal Professional for Help
Human trafficking is a serious crime, especially when young children are involved. Forcing a child to have sex against their will can lead to serious penalties.
Accused of a sex crime with a minor? You're in for the fight of your life. Seek legal help from a Florida minor sex offense lawyer from the Law Offices of Gilbert A. Schaffnit. Our team can defend you from the charges you face. To schedule a consultation, call our office at (352) 505-1799 or fill out the online form.
Source:
nbcmiami.com/news/local/man-accused-of-trafficking-branding-young-girl-miami-beach-police/2779205/