Santa Claus Charged With Child Porn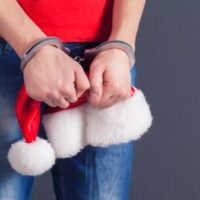 A town's former volunteer Santa Claus is facing child porn charges after he was caught in possession of more than 1,500 child porn files. Police arrested the man, who once dressed as Santa for Lauderdale-by-the-Sea's annual Christmas celebration, in July.
On the town's Facebook page, you can see the man decked out head to toe in Santa garb. He posed with smiling families and children, with many sitting in his lap, as the town celebrated its annual Christmas-by-the-Sea event.
At the time, nobody knew that the man kept a dark secret. He was addicted to child porn and had downloaded numerous child porn files onto his hard drives. And not just a couple photos here and there — more than 1,500. During the Broward Sheriff's Office's investigation, police uncovered 93,900 deleted files. Of those, there were more than 1,500 files containing child porn images and videos.
Police began their investigation of the man in May 2023. Law enforcement zeroed in on him after his home was tied to an IP address that shared 217 images and videos of child porn via BitTorrent, a peer-to-peer file-sharing app. The man allegedly distributed 39 more files that were considered to involve sexually explicit images of children, but did not meet the definition of child pornography.
The man allegedly told investigators that he uses BitTorrent for searching and downloading movies and other sorts of files. He told investigators he was unable to distinguish between small children and adults on the internet. However, when presented with the images he downloaded, he identified them as children and showed disgust.
The man admitted to using the search term "PTHC" (an acronym for "preteen hardcore") to find files. Some of the downloaded files depicted sexual activity with infants.
The Broward State Attorney's Office turned over the case to federal prosecutors. On September 28, the man was indicted on federal charges in the Southern District of Florida.
If convicted, the man faces 20 years in prison. Besides being a volunteer Santa, the man also worked as Lauderdale-by-the-Sea's volunteer fire chief from 2005 to 2007. He also served as commissioner from 2006 to 2010.
Contact a Legal Professional for Help
This story shows that child porn addiction knows no bounds. If Santa Claus can be arrested and charged with child porn, then anyone can. It's a pervasive issue.
Law enforcement officials don't mess around with people who look at sexually explicit images and videos of children. You could face state or federal charges. Protect yourself and get a solid defense with help from a Florida child pornography lawyer from the Law Offices of Gilbert A. Schaffnit. To schedule a consultation, call (352) 505-1799 or fill out the online form.
Source:
miaminewtimes.com/news/ho-ho-no-florida-towns-former-santa-claus-indicted-on-child-porn-charges-17977821