Cyberstalking in Florida: What to Know About This Crime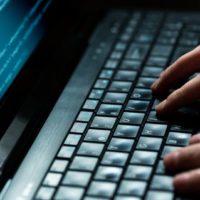 Virtually everyone has heard of stalking. You may have seen movies where a man or woman is constantly pursuing another person—typically a love interest. In the past, this was primarily done in person. In the age of technology, however, stalking is much easier.
You can now use email, text, social media and the internet to stalk someone. This is called cyberstalking and it is a crime in Florida. It is now easier to identify even anonymous cyberstalkers, so more and more people are getting arrested and convicted for this crime.
What is Cyberstalking?
Florida Statute §784.048 makes cyberstalking illegal. It involves five elements:
Engaging in communication
The use of images, words or some other type of language
The use of electronic communication such as email or social media
Communication directed at a specific person
Communication that serves no legitimate purpose other than to cause emotional distress to the targeted person
All of these elements must be present in order for a person to be charged with a cyberstalking crime. In many cases, cyberstalking is sexual in nature, although it does not necessarily have to be in order for a person to face charges.
A person can be charged with aggravated cyberstalking under these circumstances:
The person violates a restraining order or injunction.
The victim is under age 16.
The victim receives a credible threat.
Cyberstalking Penalties 
Cyberstalking can be charged as a misdemeanor or felony, depending on the severity of the crime. As a first-degree misdemeanor, a person can face up to one year in jail and a $1,000 fine. Those convicted of aggravated cyberstalking could face third-degree felony charges. The punishment includes a fine of up to $5,000 as well as five years in prison. 
Cyberstalking Defenses 
In order for you to be convicted of a cyberstalking crime, all five elements of the crime must be present. If you did not communicate with someone online or direct any type of harassment toward a specific person, then you cannot be charged with a crime.
Cyberstalking requires that the person made a credible threat to the alleged victim. If you did make a threat to someone, but it was so outrageous that the average person would not take it seriously or be afraid of it, then you could use that as a defense.
Free speech is another defense. Simply responding negatively to something that a person posts online is not necessarily enough to be accused of cyberstalking. However, if you continue to follow the person online and make threats to him or her, then you could be accused of cyberstalking.
Get Legal Help for Your Florida Cyberstalking Case
If you have been charged with cyberstalking, it's important to seek immediate legal help. While many cases are charged as misdemeanors, some more serious cases are considered felonies. This can mean prison time and other forms of punishment.
At the Law Offices of Gilbert A. Schaffnit, our team of Gainesville criminal defense attorneys can help defend you against the charges you face. Our team has more than 40 years experience defending Florida residents against sexual offenses such as cyberstalking. For more information, contact us at (352) 505-1799. We are available 24/7 for free initial telephone consultations.
Resource:
leg.state.fl.us/Statutes/index.cfm?App_mode=Display_Statute&URL=0700-0799/0784/Sections/0784.048.html