Florida Man Asks to Be Arrested for Downloading Child Porn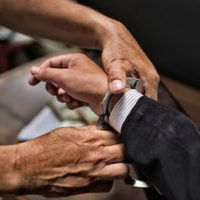 Many law enforcement officials engage in lengthy investigations to catch those engaged in child porn and other crimes. They often put in a lot of work to catch criminals. So when a person willingly turns themselves in to police, it definitely makes their job much easier.
This was the case for the Pensacola Police Department, which recently experienced a situation in which a man turned himself in for downloading child porn. On November 9, the 24-year-old man from Pensacola walked into the police station located at 711 N. Hayne Street and proceeded to admit to a police officer at the front desk that he had downloaded child porn.
He told police he needed to go to jail because he had downloaded sexually explicit images of children on his cellphone. He then proved his point by putting his phone up to the glass and showing the officer an image of a female child engaging in sexual acts.
The man was then taken upstairs. He was read his Miranda Rights and he willingly gave a statement without an attorney present. He admitted to downloading the child porn images from the dark web. He also allowed police officers to search his phone.
Law enforcement officials found two child porn images on his phone. He was arrested and charged with two counts of child porn possession. He was released on November 13 after posting a $10,000 bond. 
Why Do People Turn Themselves in for Crimes?
When people commit crimes, they typically do not want to get caught. After all, the thought of jail time, fines, probation and other penalties does not seem appealing to the average person. In fact, many people go to great lengths to avoid getting caught by police.
Given this, why would anyone intentionally turn themselves in to police, especially in cases like this, where police have no idea that the man was even involved in child porn crimes? Why would a person want to give up their life for a criminal record, a life in jail and other penalties?
Many people admit to their crimes for moral reasons. Perhaps they committed the crime and now feel a sense of remorse. They may have a guilty conscience, especially if they consider themselves to be religious. They don't want to have to live with themselves knowing that they committed a crime and never got punished for it.
Many confess because they don't want to live their lives in fear. They may be afraid of police watching them or someone finding out. They may have to be careful of what they say or do. They have no way of knowing what law enforcement officials know about their crime. 
Contact a Legal Professional for Help
Child porn charges are taken very seriously. While admitting to a child porn crime may cause a person to be looked at more favorably by the judge and allow them to receive less harsh penalties, they can still face significant jail time.
If you are facing child porn charges, protect to your rights and seek legal help right away. The Law Offices of Gilbert A. Schaffnit in Florida has decades of experience fighting child porn charges. He offers compassionate advice and effective representation for those facing such charges. Call (352) 505-1799 or fill out the online form to schedule a consultation.
Resource:
pnj.com/story/news/2018/11/15/pensacola-florida-man-police-station-child-porn-jail/2011358002/
https://www.gilschaffnit.com/man-pretends-to-be-college-coach-to-make-child-porn/